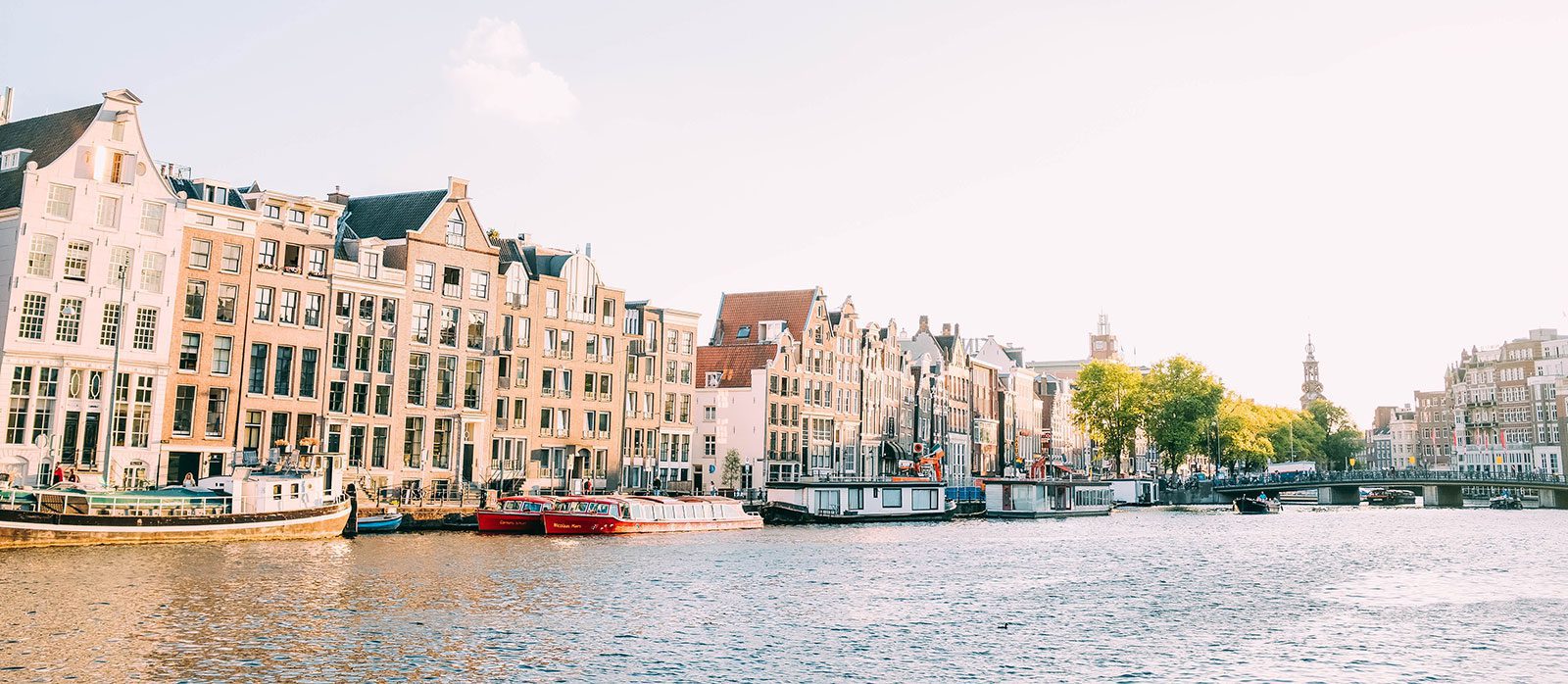 Top Travel Tips for Discovering the Real Amsterdam
The best things to do in Amsterdam to maximize your stay.
Amsterdam needs no introduction. Or does it? Although this picturesque city is known for its lenient policies, Amsterdam is brimming with high culture and beauty at every turn.
Sixty miles of canals flow through a charming cityscape, creating breathtaking vistas from another era. Indeed, there are nearly 7,000 historical buildings and monuments dating back to the 18th century or earlier, making this nostalgic city one of the best preserved in all of Europe.
From its old city center and world famous museums to the posh shopping along P.C. Hooftstraat and its creative food scene, Amsterdam is two sides of the same coin. Old-world city and modern metropolis.
Want to see it for yourself? We'd love to fly you there.
If Amsterdam isn't on your list of top travel destinations, it should be. We'll explain why while providing the most crucial need-to-know tips to fully enjoy the city.
Easily Navigate Amsterdam
The best way to experience a city is by walking its streets, taking in its sights, sounds, and smells. And Amsterdam is no exception. You can see a lot on your own two feet, but if you get tired, there are plenty of other options depending on your mood.
Bicycle
Welcome to one of the most bike-friendly cities in the world. With more bicycles than permanent residents, it's certainly the most popular form of transportation. Your hotel may have its own fleet of rentable bikes, but even if it doesn't, there are plenty of bike-shares around town.
Whatever you do, make sure you understand the rules of the road. Traffic can be confusing with all the trams, buses, cars, and pedestrians vying for space, so ride safely.
Tram
With 14 tram lines and 500 stops, the tram is a convenient way to get around. It does, however, have frequent stops and traffic lights. If you're looking to get somewhere fast, take the Amsterdam Metro's North-South line, which runs down the central spine of the city.
Canal Bus
Known as the "Venice of the North," the canals are a more romantic and fun way to get around. The Canal Company has three routes around Amsterdam with 19 stops at popular tourist and shopping destinations.
Get the Most Out of Your Vacation
Amsterdam is a treasure trove of unique experiences. There are roughly 75 museums, 300+ annual festivals, cafes, botanical gardens, parks, zoos, canals, theaters, breweries, and various neighborhoods, each with its own personality.
Maximizing every day of your trip comes down to one question: how do you want to prioritize your time? It's all about what piques your interest and how long you're in the city.
We're here to give you a place to start. So without further ado, here are some of our favorite things to do in Amsterdam.
Our Favorite Things to do
Even if you're not an art buff, it's worth stepping into a few of Amsterdam's world-famous museums, especially the ones that are free with your I Amsterdam card (more on that later). The Rijksmusuem and Stedelijk Museum are two of the most notable.
A quick walk from these museums, you'll discover Vondelpark, Amsterdam's most famous park. Though crowded with tourists in the summer, its natural beauty is complemented by an open-air theater and cafes.
Thirsty for a beer? Check out Brouwerij 't IJ, a small brewery famously located in the shadow of another top attraction, the De Gooyer Windmill. Take a tour and grab a tasty meal while overlooking the canals.
Find your way to the Spui, a center square with an art market on Sundays. If you look close enough, you'll spot the entryway to Begijnhof, a "secret" garden and Medieval courtyard. If you visit in the spring, ideally April, the garden will be in full bloom.
When you're ready to adventure beyond city center (which you really should do), we recommend Amsterdam Noord. Specifically NDSM, an old shipyard turned into a cultural hotspot.
NDSM in Amsterdam Noord
Relax on the beach along the IJ river before strolling to Pllek, a welcoming, beach-side restaurant constructed from old shipping containers with healthy eats to boot.
If your trip falls on the right days of the month, you can lose yourself in IJ-hallen, one of Europe's largest flea markets full of vintage and antique goods.
And if you're still looking for a hotel, consider the Faralda Crane Hotel. As the name implies, it's a hotel built into an industrial crane. Seriously. With three luxurious suites and a jacuzzi at the top, this is a one-of-a-kind stay for adventure seekers.
Learn more about each of Amsterdam's unique neighborhoods.
Travel Amsterdam on a Budget
Save your hard-earned money with the I Amsterdam City Card. Your key to free and unlimited public transportation, free entrance into most of the popular museums and attractions, discounts at restaurants, and more.
Good news! The city card includes free entry to the Rijksmuseum and Van Gogh Museum. But keep in mind this card only works with participating attractions, restaurants, etc. Do your research and see if the card works for your trip.
Another way to save a buck is by traveling during the weekdays and off season. Hotel prices surge on the weekends, especially in July and August when crowds are heaviest. The main travel season lasts from May to October, when it's the warmest.
Pro tip: Visit Amsterdam in April to catch the tulip season at its best while avoiding the worst of the tourist and rainy seasons. If you do visit in April, make sure to visit the Keukenhof.
The Real Money-Saver
Finding a cheap flight is the best way to see Amsterdam on a budget. By coupling these money-saving tips with low airfare, you can plan a surprisingly affordable trip to one of Europe's most quintessential cities.
Here at Orlando Sanford International Airport, or SFB for short, we're proud to offer lower airfare, more affordable parking, and shorter security lines. With Orlando Sanford Airport, traveling for business and leisure is simpler and faster. Book your flight to Amsterdam today or explore all of our unique destinations across North America, Europe, and South America.